Tasty Planet Dino Time
Warning
Adobe has blocked Flash content from running in Flash Player since January 12, 2021. The emulator is still under development, but should be completed by the end of this year.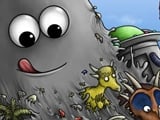 Tasty Planet Dino Time
• Published Dec 10th, 2011 with 6067 plays
Platforms:
Controls:
movement: arrow keys
In this interesting online game scientists have developed a cell that is able to eat everything smaller than the cell itself. With your help it can grow to giant proportions.