The Utilizer
Warning
Adobe has blocked Flash content from running in Flash Player since January 12, 2021. The emulator is still under development, but should be completed by the end of this year.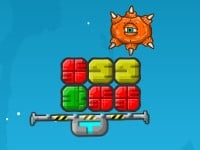 The Utilizer
• Published Jun 3rd, 2015 with 4475 plays
Platforms:
Controls:
Mouse = moving the space ship
Your task is to try hard to shoot down all your enemies. We believe you can do this real fast. Collect enough money and test your abilities in the mode in which you will have to survive. Upgrade your ship and get the best score possible.