Traffic Slam 3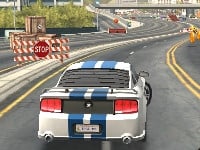 Traffic Slam 3
• Published Jan 22nd, 2013 with 1496885 plays
Controls:
movement: arrow keys, detonator - space bar, drift - Z, using upgrades - X, change camera - C, reset - R, full screen - F
Traffic Slam number 3 is here and you can look forward to lots of fun. You will have to fulfill some missions, usually having something to do with destroying the city or collecting some things. All this in cool 3D graphics.
In order to play you will need Unity Web Player.