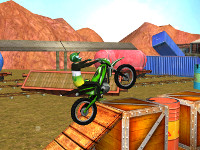 • Published Sep 22nd, 2015 with 14987 gameplays
Platforms:
Controls :
Arrow keys = driving
Getting through the levels will not be easy at all because there will be many obstacles. Be careful from the very beginning not to crash. For each crazy jump, you will get money which you can use at the end of the game to upgrade your bike. Your goal in this game is to become the very best one. Take a look at the charts and make sure you get the top position.