You Can't Survive!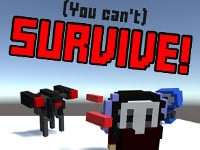 You Can't Survive!
• Published Sep 18th, 2015 with 11974 plays
Controls:
WASD = movement, Mouse = shooting
It is very important to kill your enemies in this pixel graphics. How long can you stay alive? Do you feel like going on an adventure? Be careful, the number of enemies can grow fast. The very first level is already rather difficult. You will have to avoid the enemies. The beginning of the end comes when there are too many of them and you start losing control.