Dinopark Tycoon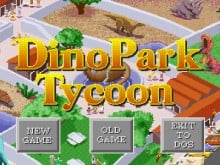 Manley & Associates, Inc.
• Published Jul 27th, 2016 with 15886 views
• Year of release: 1993 • Publisher: MECC
Platforms:
Here is another cool retro game. There are various online games in which you take care of animals and others in which you run an amusement park. Today, you will run a Dinopark and your task is to earn money with it. You have a loan of 5000 dollars and you have to use it to buy land, dinosaurs, food and pay your employees.