Spider-Man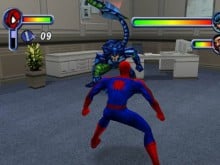 Spider-Man
• Published Jan 20th, 2018 with 106385 plays
Controls:
Detailed control in the game

Up




Left

Down

Right

movement

K

select in menu / jump

J

back

E

web for hanging

I

web for enemies

U

kick

L

box

⏎

start
In this interesting 3D game that you could have played on older consoles some years earlier, you will be playing as Spider-Man trying to save his city. You'll be facing simple foot soldiers and even advanced enemies that have their own superpowers. The game is retro, so the controls aren't as intuitive as we could have hoped, but you'll get used to it.