Adventure Time: Romance On Ice
Warning
Adobe has blocked Flash content from running in Flash Player since January 12, 2021. The emulator is still under development, but should be completed by the end of this year.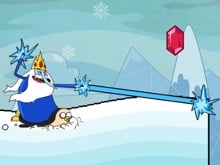 Adventure Time: Romance On Ice
• Published Oct 19th, 2015 with 3611 plays
Controls:
Mouse = movement
In today's online game you have to do everything possible to impress the girl. The hero is showing off what a great athlete he is and he starts walking on frozen ground he himself creates. You must collect enough diamonds and buy new things which will make everything easier for you.