Doctor Acorn 2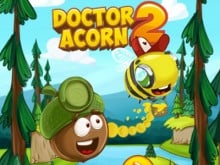 Doctor Acorn 2
• Published Jul 11th, 2017 with 4678 plays
Platforms:
A great online game where you'll be using usable objects to move the acorn to its place. It won't be easy though. You always have to find a way how to do it. Try to avoid thorns and dangerous areas, since you could end up repeating the level. Get into it and show everyone that you can make it. Click onto turbines that can move your acorn with ease. The wind is the only thing that can make the acorn move.


80% 3.5k plays
Published: Apr 23rd, 2013 Flash Help our doctor get to the top of the tree.


80% 4.3k plays
Doctor Acorn : Birdy Level Pack
Published: Sep 22nd, 2013 Flash Help our nice doctor get to the injured animals.