Astral Crashers
Warning
Adobe has blocked Flash content from running in Flash Player since January 12, 2021. The emulator is still under development, but should be completed by the end of this year.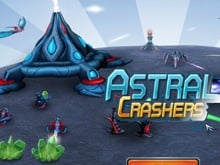 Astral Crashers
• Published Jan 12th, 2016 with 4899 plays
Platforms:
Discover many places in this game, fight enemy soldiers and robots which try to prevent you from completing your mission. Don't forget to upgrade your units. It's important you earn enough money. Choose your strategy and start playing. Try to get hold of raw materials without which you don't really have a chance. Good luck!