Avalanche King
Warning
Adobe has blocked Flash content from running in Flash Player since January 12, 2021. The emulator is still under development, but should be completed by the end of this year.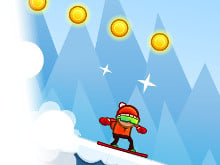 Avalanche King
• Published Feb 25th, 2016 with 6023 plays
Platforms:
Your task is to get as far as possible and earn lots of points for your score. Make sure you don't get buried by an avalanche or fall from the game board. It won't be easy to escape this massive avalanche. Break all the records and keep moving forward.