Bad Piggies Online 2016
Warning
Adobe has blocked Flash content from running in Flash Player since January 12, 2021. The emulator is still under development, but should be completed by the end of this year.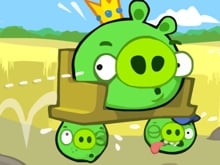 Bad Piggies Online 2016
• Published Oct 6th, 2015 with 19460 plays
Platforms:
Controls:
Mouse = interaction
Your task is to help these little pigs to build a vehicle with which it is even possible to fly. Travel in it and collect various objects. Cunstructing the means of transport is very important because it will influence everything you do. The game has various levels and worlds so you will have lots of fun.