Bart Simpson Skateboarding
Warning
Adobe has blocked Flash content from running in Flash Player since January 12, 2021. The emulator is still under development, but should be completed by the end of this year.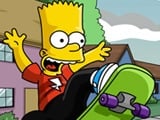 Bart Simpson Skateboarding
• Published Jun 21st, 2011 with 10923 plays
Platforms:
Controls:
movement: arrow keys
Another game with Bart Simpson. This time you will ride a skateboard. Try to jump over obstacles and do not hit the trees. The goal is to get as far as possible.