Cowaboom
Warning
Adobe has blocked Flash content from running in Flash Player since January 12, 2021. The emulator is still under development, but should be completed by the end of this year.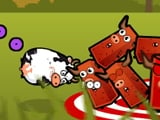 Cowaboom
• Published Jan 8th, 2012 with 3257 plays
Platforms:
In this great game you control the cows and try to remove all the bulls from the marked area. Cows may have different properties, some of them explode.