Dungeon Surge
Warning
Adobe has blocked Flash content from running in Flash Player since January 12, 2021. The emulator is still under development, but should be completed by the end of this year.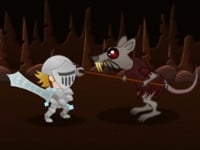 Dungeon Surge
• Published Sep 6th, 2015 with 4667 plays
Platforms:
Controls:
Mouse = interaction
Play a crazy knight who has to save all the cats. Try to deal with the dangerous lava and all the enemies who are waiting for you to make a mistake. There will be many tasks in this game which you must complete. You will, of course, get a reward. We believe that you will like this game. Just start playing!