Elsa Heart Surgery
Warning
Adobe has blocked Flash content from running in Flash Player since January 12, 2021. The emulator is still under development, but should be completed by the end of this year.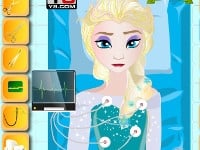 Elsa Heart Surgery
• Published Sep 18th, 2015 with 8646 plays
Platforms:
Controls:
Mouse = interaction
Princess Elza has to go to the hospital after waking up and feeling really bad. The doctors decide that she needs a surgery. It is just up to operate and make sure she is okey. Follow the instructions the game gives you and everything should go well.