Ghostbombers 2
Warning
Adobe has blocked Flash content from running in Flash Player since January 12, 2021. The emulator is still under development, but should be completed by the end of this year.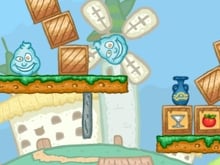 Ghostbombers 2
• Published Oct 30th, 2015 with 3492 plays
Platforms:
Controls:
Mouse = shooting
In this game you have to find a way to blow up all the ghosts in the given level. Move through the levels and don't miss a single ghost. We believe that you can get to the end of the level without any problems. Collect stars to get a high score. At the end, blow up the ghost and try to pull him towards your gun.