Go Kart Go! Ultra!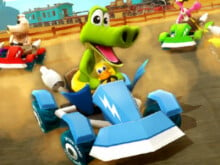 Go Kart Go! Ultra!
• Published Dec 14th, 2014 with 6004 plays
Controls:
Player 1: Arrow keys = driving, Shift = drift, Spacebar = use items, Z = rear view<br /><br />Player 2 = WASD driving, Tab = drift, Q = use items, E = rear view
Graphic processing is in the comic administration and we can say that it is absolutely amazing. Your task is to win the race course. Use of any resources to your opponents a halt and you only got to finish first. It is therefore sufficient to take boxes with question mark and use them at the right moment.