Highway Zombies
Warning
Adobe has blocked Flash content from running in Flash Player since January 12, 2021. The emulator is still under development, but should be completed by the end of this year.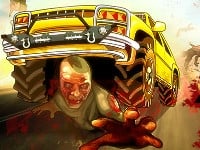 Highway Zombies
• Published Aug 27th, 2015 with 4348 plays
Platforms:
Controls:
Arrow keys = driving
Drive a car on a highway which is being controlled by zombie enemies. Run from them, collect enough coins, fuel and keep healthy. Make sure you stay alive. Try to upgrade your car all the time and improve your condition. Being in good shape is your only chance to get to the finish line alive.