Island Defense
Warning
Adobe has blocked Flash content from running in Flash Player since January 12, 2021. The emulator is still under development, but should be completed by the end of this year.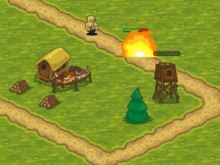 Island Defense
• Published May 4th, 2016 with 7461 plays
Controls:
Mouse

construction of the tower, sell towers
For each killed enemy, you will get raw materials that you can exchange for useful items. Pirates are trying to take over your city. Build defense towers and be prepared for anything. Start right now and over time you will be able to build better and stronger towers.