Jumping Box 3
Warning
Adobe has blocked Flash content from running in Flash Player since January 12, 2021. The emulator is still under development, but should be completed by the end of this year.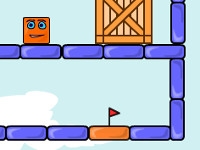 Jumping Box 3
• Published Jun 7th, 2015 with 4572 plays
This game is here for the third time. Can you get the box to where it must be? Avoid the obstalces and do not get stuck. We hope you will do everything you can and manage to meet the challenge. There are 42 truly great levels in the game.