Katja's Escape 2
Warning
Adobe has blocked Flash content from running in Flash Player since January 12, 2021. The emulator is still under development, but should be completed by the end of this year.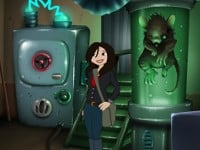 Katja's Escape 2
• Published Sep 10th, 2015 with 5020 plays
Platforms:
Controls:
Mouse = interaction
In today's online game you have to get out of a laboratory. It will definitely not be easy. So try your best to find a way out and use all the things you find. The laboratory is soon going to explode so hurry up! This game is about thinking not just klicking, so make sure you think about your every step.