Keep Out!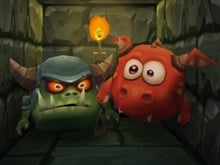 Keep Out!
• Published Oct 1st, 2015 with 14076 plays
Controls:
QWEASD = movement, space bar = sword, F = arrow, X = bombs, C = magic, R = potions
In this very interesting online game you will find yourself underground. There are many skulls around here, so it is clear that some murders took place here. Have people been starved to death here? Nobody knows that and you have to look into it. The game brings many levels and the whole atmosphere is rather scary. Just try playing this online game at night!