Key & Shield 2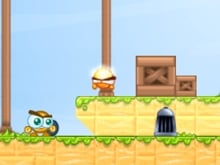 Key & Shield 2
• Published Nov 18th, 2015 with 6158 plays
Controls:
Arrow keys= running, Z = jump, X = shield
The cool jumping game Key & Shield is here for the second time. Many of your friends are imprisoned in cages and you must release them. Take your key and your shield. Face the enemies and travel across the island. Make sure nobody gets the chance to kill you. The enemies are agressive and will surely not want you to pass. Also collect the gold coins. This game can be played on a mobile phone as well.

86% 5.8k plays
Published: Jun 2nd, 2014 HTML5 You have been freed by an angel and now you have to take advantage of it.