Milk Run
Warning
Adobe has blocked Flash content from running in Flash Player since January 12, 2021. The emulator is still under development, but should be completed by the end of this year.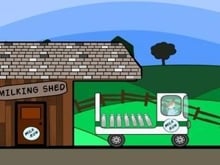 Milk Run
• Published Sep 16th, 2010 with 10151 plays
Platforms:
Controls:
movement: arrow keys
The task is quite simple, you will be responsible for the transport of a few bottles of milk.