Motor Wars Wasteland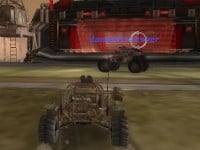 • Published Aug 22nd, 2015 with 22494 views
Platforms:
Controls:
Mouse, WASD = movement, space bar = jump, Shift = turbo, R = reset
Motor Wars Wasteland is a new game from the cool series Motor Wars in which you drive around and shoot enemies. In one type of game you will have to steal the opponent's flag and take it to your base. The team which gets the most points wins. The game can be played even without registration but if you want to save your statistics, you must be registered.

100% 79.5k plays
Published: Jul 20th, 2013 HTML5 In the second episode of Offroad Rage you will again destroy opponents in fast cars.