Piece of Princess Cake
Warning
Adobe has blocked Flash content from running in Flash Player since January 12, 2021. The emulator is still under development, but should be completed by the end of this year.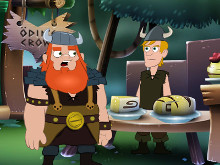 Piece of Princess Cake
• Published Feb 22nd, 2016 with 3887 plays
Sandro can't buy the princess cake. It is very sad, because the only shop selling the cake decided not to sell it to Sandro. The reason is simple - the shop keeper and Sandro's boss hate each other. Will Sandro ever get his piece of cake? It depends on what you do about it in this game.