Ragdoll Ball
Warning
Adobe has blocked Flash content from running in Flash Player since January 12, 2021. The emulator is still under development, but should be completed by the end of this year.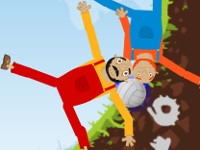 Ragdoll Ball
• Published Jun 7th, 2015 with 6380 plays
Platforms:
Controls:
Arrow keys = move
The task is to get to the ball and keep it blue as long as possible. It will get more and more difficult because your oponents will be stronger and stronger. Just do your very best and you will for sure be really successful. Show us how you can do it!