Robot vs Zombies
Warning
Adobe has blocked Flash content from running in Flash Player since January 12, 2021. The emulator is still under development, but should be completed by the end of this year.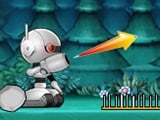 Robot vs Zombies
• Published Nov 6th, 2011 with 4143 plays
Platforms:
With this heroic robot the long period of the zombie monsters finally ends. The robot will need your help. Just set the correct angle and power and destroy them all!