Rocket Santa
Warning
Adobe has blocked Flash content from running in Flash Player since January 12, 2021. The emulator is still under development, but should be completed by the end of this year.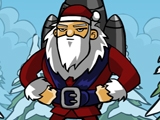 Rocket Santa
• Published Dec 29th, 2011 with 4273 plays
Platforms:
Try to fly with Santa as high as possible. Will you get to the moon? Along the way earn points for which you can later buy bonuses which will certainly help you.