Rocket Ville
Warning
Adobe has blocked Flash content from running in Flash Player since January 12, 2021. The emulator is still under development, but should be completed by the end of this year.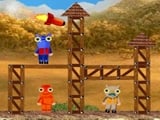 Rocket Ville
• Published Nov 7th, 2011 with 4215 plays
Platforms:
In this great game you launch rockets to destroy unsuspecting stickmen. Just set the correct angle and power, other things will ​​the bomb do for you.