Solarmax 2
Warning
Adobe has blocked Flash content from running in Flash Player since January 12, 2021. The emulator is still under development, but should be completed by the end of this year.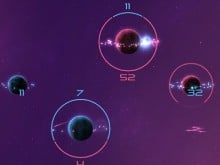 Solarmax 2
• Published Jul 11th, 2016 with 12237 plays
Platforms:
Play a game you simply must win. Move your soldiers between planets and try to gain control over each planet. The online game Solarmax is a strategy in which you have to plan your attacks and occupy planets where you can build new spaceships. Can you do this? If you like this game, you can also take a look at Solarmax 1.