StarColony
Warning
Adobe has blocked Flash content from running in Flash Player since January 12, 2021. The emulator is still under development, but should be completed by the end of this year.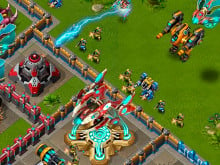 StarColony
• Published Apr 25th, 2016 with 10563 plays
In this game you play with people from around the world. Your task is to fight for your home. People found the wonderful place Terra Sperm in the Tau Kita system. However, the colony is threatened by infected beetles and other enemies. Try to stay alive and kill the enemies. Do your best to avoid the catastrophe that destroyed the Earth.