Super Sports Surgery: Basketball
Warning
Adobe has blocked Flash content from running in Flash Player since January 12, 2021. The emulator is still under development, but should be completed by the end of this year.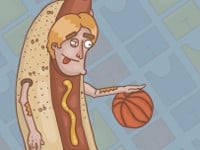 Super Sports Surgery: Basketball
• Published Jul 14th, 2015 with 5004 plays
Platforms:
Controls:
Mouse = interaction
Your task is to save this person's life. Make sure the wound does not get infected and you save the patient. There will be various instruments you can use to perform the surgery well. Do not forget that you are not a doctor, but this person needs your help.