Vampire Jackie: Fly to Freedom
Warning
Adobe has blocked Flash content from running in Flash Player since January 12, 2021. The emulator is still under development, but should be completed by the end of this year.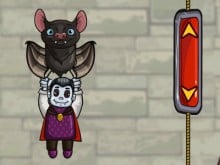 Vampire Jackie: Fly to Freedom
• Published Jul 14th, 2016 with 5877 plays
Platforms:
The vampire is imprisoned in a castle and your task is to get him out of there. You can look forward to 25 cool levels. Find a way to safely free your vampire. Once you are ready, click on your hero and a bat will take him and fly with him to safety.