Xenos
Warning
Adobe has blocked Flash content from running in Flash Player since January 12, 2021. The emulator is still under development, but should be completed by the end of this year.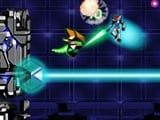 Xenos
• Published Nov 19th, 2011 with 3879 plays
Platforms:
Controls:
movement: arrow keys, a special attack - the space bar, change weapons - the number keys
In 2115, scientists succeeded in developing a completely new type of energy. This, however, has been misused for the production of a hostile army. Its mission is to occupy the whole world, therefore you must stop it.