Zombies Head Up
Warning
Adobe has blocked Flash content from running in Flash Player since January 12, 2021. The emulator is still under development, but should be completed by the end of this year.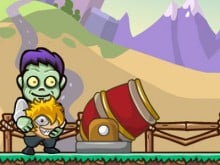 Zombies Head Up
• Published Dec 21st, 2016 with 5207 plays
Play as a zombie tasked with getting one of his zombie friends' head to its place. Try to get all three available stars. The controls are fairly easy, the graphics are nice and the game offers a ton of fun! So get in there and figure out how to finish each level!