For Chrome users:
Google has removed Unity support from version 45. You have to download
GameLoad for Chrome or use different browser (e.g. Firefox).

If your browser is not Chrome:
You need to install Unity Web Player to play this game.
Skip ad and play the game >>
Army Force Online - Free Multiplayer FPS
• Published Oct 13th, 2013 with 53783 gameplays
Controls :
mouse, movement - WASD, sprint - Shift, menu - Tab, crouch - C, chat - T, picking gun - F, fullscreen - P
Here we have another quality 3D shooter that you'll play with gamers from around the web. There are several game modes and also a number of maps and weapons waiting for you. You can also try to gain the best place in the world ranking, so good luck.

96% 53.8k plays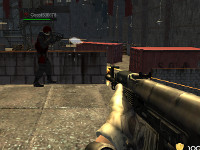 80% 8.7k plays