Achilles 2 Legend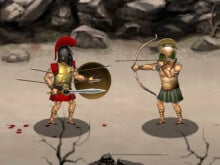 Achilles 2 Legend
• Published Mar 27th, 2012 with 20077 plays
Controls:
movement - W, A, S, D , kick - L, attack - K
Once upon a time in what is now Greece, the military commander of a terrible army, king Agamemnon, fought to win the enemy territory. At the head of his army was Achilles, who became a symbol of a strong warrior. In this game you control this character kill the enemies.

89% 15.3k plays
Published: Feb 25th, 2008 HTML5 In the role of the legendary warrior Achilles you try to go through 15 levels an...