Basket & Ball
Warning
Adobe has blocked Flash content from running in Flash Player since January 12, 2021. The emulator is still under development, but should be completed by the end of this year.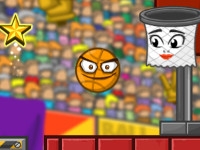 Basket & Ball
• Published Sep 17th, 2015 with 6938 plays
Platforms:
Controls:
Arrow keys = movement, Space bar = jump
Constantly try to dribble and move around. This is the only way to get to the basket at the end of the level. Try to jump as high as possible and avoid the robotic policemen and fires. You can surely do this withou any problems.