Bicycle Run
Warning
Adobe has blocked Flash content from running in Flash Player since January 12, 2021. The emulator is still under development, but should be completed by the end of this year.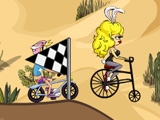 Bicycle Run
• Published Dec 19th, 2011 with 5780 plays
Platforms:
Controls:
movement: arrow keys, nitro - X
Find out what a bike race is like. In the beginning you have to bet on your winning some money. If they win or lose it is up to you.