Businessman simulator
Warning
Adobe has blocked Flash content from running in Flash Player since January 12, 2021. The emulator is still under development, but should be completed by the end of this year.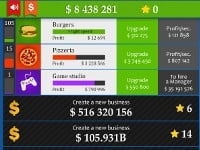 Businessman simulator
• Published Sep 20th, 2015 with 7441 plays
Controls:
Mouse = interaction
Today, you will become an entrepreneur who runs restaurants and fast food chains. Create a business that will bring you lots of money. If you don't want to take care of everything yourself, you can hire a manager. You can become the most successful businessman in the area.