Crusader Defense: Level Pack
Crusader Defense: Level Pack
• Published Oct 15th, 2015 with 7584 plays
Controls:
Mouse = interaction
In this game you have to place your soldiers by the road so that your kingdom cannot get attacked and destroyed. The task is simple; you must prevent your enemies from taking over your fortress. Kill your enemies and use the gold to buy some useful things. Start playing and show everyone that you have the best strategic skills.

78% 10.4k plays
Published: Apr 8th, 2015 HTML5 A sophisticated tower defense game from the past here.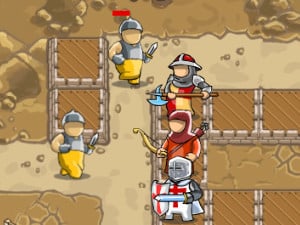 71% 10.0k plays
Crusader Defense: Level Pack 2
Published: Apr 22nd, 2016 HTML5 Send your soldiers to the right positions and kill all your enemies.