Cyber Chaser 2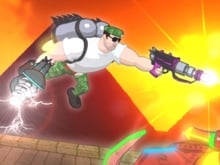 Cyber Chaser 2
• Published Oct 15th, 2015 with 6410 plays
Controls:
Arrow keys= jump, slide
In today's online game you play as a soldier whose task it is to destroy all the robots from an alien planet. Make sure you kill these enemies and avoid all the obstacles which could easily stop you. Collect enough gold and diamonds to be able to improve your character.

100% 7.7k plays
Published: Sep 26th, 2013 HTML5 Help our hero jump over all the obstacles and destroy all the enemies.