Road of Fury 3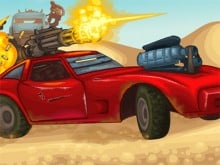 Road of Fury 3
• Published Feb 3rd, 2018 with 11199 views
Platforms:
Yup, that's right, this is the Wild West and you'll be able to enjoy 3 levels prepared just for you. Aim at your enemy and blast him as far as possible. Use your Gatling to neutralize your opponents almost instantly. You need to do everything you can to finish the game. Earn enough points and cash to continue into the next level. So get right to it and show the world what you've got.


92% 8.0k plays
Published: Dec 18th, 2013 Flash Enemies come from the air and from the ground, so you must be prepared.


100% 6.9k plays
Published: Dec 31st, 2014 Flash Crazy game where you shoot the enemies.