Deterministic Dungeon
Warning
Adobe has blocked Flash content from running in Flash Player since January 12, 2021. The emulator is still under development, but should be completed by the end of this year.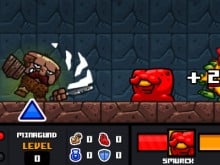 Deterministic Dungeon
• Published May 3rd, 2016 with 5684 plays
Platforms:
The name of the character is chosen randomly. You can choose a place on the map and also your enemies. During the battles you can choose whether you attack or defend yourself. You must make this decision and push the button you see on the screen, when it shows a number higher than zero. Zero means you can neither attack nor defend yourself.