Grand Prix Go
Warning
Adobe has blocked Flash content from running in Flash Player since January 12, 2021. The emulator is still under development, but should be completed by the end of this year.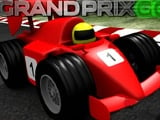 Grand Prix Go
• Published Jun 16th, 2011 with 9951 plays
Controls:
movement: arrows, turbo - X
If you are fans of Formula One, you will be excited about this game. In the first race try to place yourself well, because you will get money for which you can buy some great things. You can also try the qualifications or training.