Mahjong Fun
Warning
Adobe has blocked Flash content from running in Flash Player since January 12, 2021. The emulator is still under development, but should be completed by the end of this year.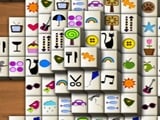 Mahjong Fun
• Published Mar 6th, 2011 with 19290 plays
Platforms:
Here we have another fun mahjong with some interesting images. If you have never played this type of game, never mind. The task is to remove all stones from the table. They disappear if you can find two identical stones that are on the edge.