• Published Aug 28th, 2012 with 3183770 gameplays
Platforms:
Controls :
mouse, movement - W, A, S, D, jump - space bar, enter the vehicle - E, sprint - Q, change weapons - 1-3, reload the weapon - R, crouch - C, menu - M, inventory - I
In this really great 3D game you will enjoy fighting other players. If you know the game called Battlefield, this is the slightly weaker internet version of the game. You will be able to use cars, tanks and even a helicopter. The game can be played even without registration, but then you have to forget about statistics.

85% 3.1m plays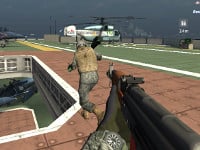 91% 252.1k plays