Sherlock Holmes 2
Warning
Adobe has blocked Flash content from running in Flash Player since January 12, 2021. The emulator is still under development, but should be completed by the end of this year.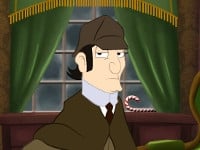 Sherlock Holmes 2
• Published Jun 5th, 2015 with 8399 plays
Platforms:
Controls:
Mouse = interaction
In today's online game you become Holmes. You will investigate the murder of Jimmy Johnston. The police think he was killed by Charles Williams, but Holmes thinks something totally different. Can you prove Charles' innocence? You should find evidence to help Holmes with his investigation.